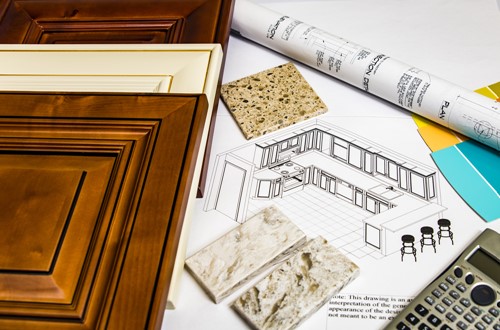 Image by StudioDin from Shutterstock
Homeowners wishing to sell their home for top dollar might consider a kitchen remodel to increase its value and efficiency. Aside from the kitchen being the heart of the home, it also has several surfaces you can quickly upgrade that affect the entire space. The tips below give you a guide to which areas in your kitchen give you the best return for your investment.
Cabinets and Hardware
Cabinetry is often the primary component that determines the style of your kitchen. Replacing or refreshing your cabinets is one way to improve the look and feel of your kitchen. If the current cabinetry is in decent shape, refinishing or repainting the faces might achieve the look of new without the expense of a complete replacement. If you choose to tackle this project yourself, take the time to remove the doors, and hardware before you begin. For best results, closely follow notes for sanding and drying time for the paint or stain you've selected. Top off your cabinetry with updated hardware.
Paint or Wall Finish
A fresh coat of paint gives the house a clean, updated look. If you decide to paint your kitchen walls, create a neutral but inviting kitchen space. Colors trends are often regional, so let your realtor in on your plans and follow their lead for the best options.
Another trend for kitchen walls is adding a backsplash. While its purpose is to protect the kitchen wall from water damage, the backsplash has become a modern kitchen focal point. Choose neutral materials that complement the counter and cabinet surfaces and show the kitchen in the best light.
Countertops and Fixtures
Of all the surfaces that add value to your kitchen space, countertops are most desirable. Materials like natural granite and marble give you a good return on your investment. For people who want a countertop that can resist scratches and stains and requires little or no maintenance, quartz serves perfectly.
Replacing tired or scratched faucets with new, updated versions not only enhances the look of your kitchen, but it also improves functionality. Consider a high-profile faucet with a pull-out sprayer and single-handle operation in a style that matches your kitchen's aesthetic.
Light Fixtures
Lighting has a powerful effect on a room. It brightens your kitchen up, making it appear more inviting. Use lighting to create a vintage style kitchen with chandeliers and or give a modern twist with recessed lighting or pendants. Under-cabinet or task lighting gives a soft glow and makes meal prep easier.
Flooring
An overwhelming variety of flooring options exist for your kitchen; from vinyl and tile to laminate and hardwood. For stylish kitchen flooring design, choose a product that enhances the other elements in the room. A cohesive look is more important than spending all your money in one place.
There are many areas in your kitchen where you can make simple changes to add value to your home. Determine your budget and consult with your realtor on the best options for the greatest return on your investment.