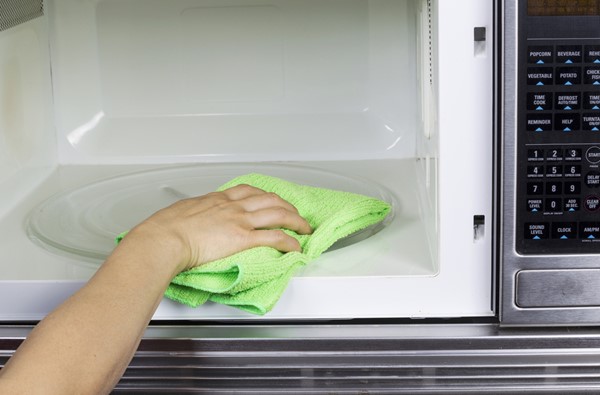 It's the heart of every home; the kitchen is the place that you want to be one hundred percent free of bacteria and smelling fresh and clean. With these kitchen cleaning tips, you can make sure that your kitchen is safe for cooking family meals.
Sure, most cleaning routines do not need to be difficult; if you use the right cleaning tips, you can use less elbow grease and clean your kitchen with minimal effort.
Your microwave
The inside of the microwave can become full of splattered foods and dried-on grease. If you need to clean the inside of the microwave and you do not want to scrub all day, you can place a wet dishtowel or sponge in the middle of the microwave and turn on high for about thirty seconds. Then wipe with a damp cloth. Repeat this process until the inside is clean and free of any build-up that can cause bacteria.
What about your cutting board and sponges?
Clean your wooden cutting board with lemon and coarse salt. You can remove stains from your cutting board by putting coarse salt all over it, and then rubbing the salt into the board with a cut lemon. Then, rinse thoroughly and rest the board on its side to dry.
Sanitize your sponges by boiling them or running them through the dishwasher. Sponges made of natural material are great to use in the kitchen for cleaning and scrubbing, but they can harbor bacteria and other germs and creating discomfort in the kitchen. At least once a week sanitize your sponges one time or more if need be. The best way to do this is by boiling them for five minutes, allowing the heat to kill all the germs. Alternatively, place them in the top rack of the dishwasher and run the "sanitize" cycle.
Stained pots and stain removal from plastic
Kitchen cleaning tips for tarnished pots is easy if you have some tomato ketchup. Place a fine coat of ketchup on the tarnished and dirty part of the pan. Allow this to sit for about thirty minutes. Then simply rinse and wash for a clean looking pot.
Have you ever placed tomato soup or tomato sauce in plastic containers and left it there? If you have, you know that the tomato base will stain your plastic. To remove stains from tomato-based products from plastic, run hot water into the bowl and add some tablets for cleaning dentures. Let this stand for about four hours and then empty the solution and wash.
When you want to have a clean kitchen and cleaning is not how you want to spend your day, use these fast and easy kitchen cleaning tips to see how easy kitchen cleaning is!