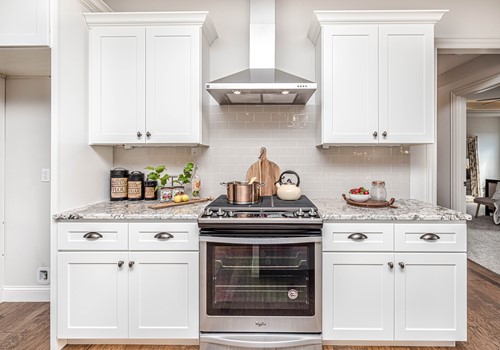 When everyday people consider home remodeling ideas, kitchens often top the list for a wide range of reasons. Home chefs often want to integrate kitchen remodeling ideas to improve space efficiency. Some want to better accommodate friends and family members who enjoy the most-used space in the household. No matter your reasons for wanting to make changes, these are hot-trending kitchen remodeling ideas worth considering.
1: Kitchen Cabinet Efficiency and Appearance
Working families are expected to re-imagine standard kitchen cabinets. Many traditional designs prove limiting because they don't go all the way to the ceiling. Leaving that space empty above cabinets or covering it with wide trim does not necessarily maximize storage space.
Utilizing that upper space allows people to store under-used items. You may need a foldable kitchen step-tool to reach the height, but that tends to be more convenient than cluttering floor-level storage areas.
On the aesthetic front, natural wood finishes and soft colors are expected to trend high. The popular remodeling ideas involve sleek natural wood or soft country-styled cabinets without exposed hardware. This can be accomplished with finger seams under the drawer or cabinet front panel.
2: Walk-In Pantries Popular Among 2021 Remodeling Ideas
Many large kitchens do not maximize the potential use of space. In such cases, building a wall that effectively creates a secure panty proves relatively inexpensive. And compared to the tremendous storage gains, that investment can be money well-spent.
This same strategy holds true in layouts with a smaller kitchen and an adjacent room. Installing a doorway in the kitchen area and putting up a partition in the abutting room can achieve the same purpose. In terms of investment and resale value, buyers may find this use of square footage more attractive than passive living space.
3: Flooring Priorities
Kitchens typically experience the most foot traffic of any room in the household. People generally gather to talk, enjoy morning coffee, walk through for quick snacks and prepare the majority of meals in the kitchen. Its stands to reason the flooring experiences more wear and tear than other rooms as well. When selecting a specific flooring material, ask yourself the following questions.
Will the material stand up to water?
Can the materials withstand hard impacts?
How long will the flooring last, based on anticipated foot traffic?
Is the flooring product easy to sweep and scrub?
Do the design and color accentuate other decor elements?
In 2021, flooring products such as engineered vinyl plank and porcelain tiles appear to be making a strong push. The relatively new vinyl plank products closely resemble hardwood flooring and are considered waterproof. This product provides a cushioned feeling under your feet and remains less expensive than most hardwood. Today's porcelain tile products rank among the more durable, easy to clean and come in a variety of shapes, sizes and colors. This facet provides increased design flexibility when considering kitchen remodeling ideas.
Making your dream kitchen a reality involves spending wisely and considering the latest remodeling ideas. If a kitchen upgrade is at the top of your home improvement list, it may be in your best interest to discuss your options with a kitchen remodeling professional.