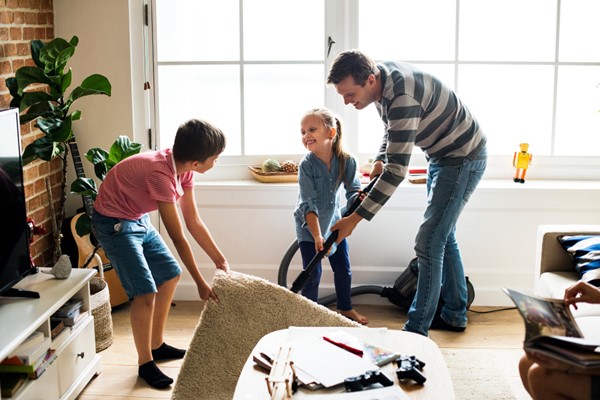 No doubt about it, family life can be messy!
With you working all week, the kids going to school, and the dog, well, doing dog things, it doesn't take long for the house to end up a mess. You manage to finish the dinner dishes but when you take a look around at everything else you just want to curl up on the sofa for the evening. Or, you look at the stack of decorator magazines on, or under, the coffee table and wonder how other people get it all done while you feel like a first-class failure (at housekeeping, that is).
Here's the dirty little secret …
Nobody gets it all done by themselves. Comparing yourself to glossy magazines or social media is downright debilitating. And it's unproductive because what you see on those pages isn't real. Entire teams of designers, decorators, movers, and cleaners set up those spaces.
Getting real …
So, create a system that is real for you and your household. Don't strive for perfection, do work at consistency instead. And first up … get everyone in the house on board.
Pick one simple thing and start there. Make that one thing the only thing you worry about getting done at the end of the day. Give everyone a part in the one thing. So … if every family member has a bin, basket, or plastic tub, their one thing is to collect all of their belongings from the living areas in their container and take it to their room each evening as they head for bed.
Kids can grab their toys, jackets, and shoes. Once the container reaches their room, don't worry too much about getting everything put away at first. You're creating a new habit, so working on the "removal from the living areas" first. After a couple of weeks of consistent follow-through, add just one more step. Try something simple like, put hang up your jacket on the hook, or put your shoes in the closet.
As each one thing becomes habitual, add one more. But don't add too many or something too difficult because that can backfire on you.
Make décor work for you …
Dripping pots of hydrangeas on artfully stacked books don't work in a household of children, one living area where the coffee table holds cups and glasses, several electronics remote controllers, and today's homework.
If what works for you is adding a flat basket to hold the controllers and gathering up the glasses at the end of the evening, don't complicate it by adding dust-catching décor that makes life more difficult, or gets in the way of your second grader's homework getting done.
Your home is about living life. Your life.
If you find your home no longer works for you, share your needs with a real estate professional that can help you decide if a new home is in your future.