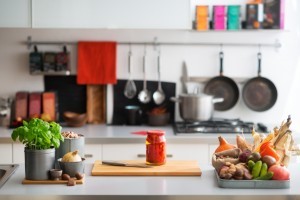 The kitchen. It's one of the most used rooms of the house, yet somehow becomes one of the most disorganized. If you're tired of digging past ten spatulas to find the potato peeler keep reading. Below are some tips on how to organize your kitchen and keep it that way!
Start by making a bigger mess
. Yes, clean everything out of the drawers and cupboards. You may want to include clearing out pantry items as well if it's been awhile since you've done so. Check expiration dates on everything as sometimes items have a way of getting pushed to the back of a cupboard to be forgotten for years. Sort through your items and determine what can be kept, donated or tossed out.
Create categories for the items you are keeping.
Think baking, cooking, seasonal, often used, least used, etc. By sorting everything out into categories now, you will know what type of storage solutions and where the best place to store them is later.
Find storage solutions that work
. Whether you have items laying around the house you can use or need to invest in some, the best way to stay organized is to create a system that assigns a home for every single item you own. Junk drawers are born from items not having a dedicated place. Be proactive in preventing the dreaded junk drawer by finding an organization solution that includes a spot for everything. Some organization items to consider are lazy susans for spices and other pantry items, hooks to hang mugs, a stemware rack for wine glasses, a rack hang pots and pans from the ceiling, hooks on the insides of cabinet doors for pot holders or measuring cups, a spice rack installed on a cabinet door, and drawer dividers for utensils.
Keep your most used items within reach
. Avoid digging through cupboards and drawers on a daily basis by keeping your most used items front and center. In cabinets store your most used items on lower shelves while placing the ones you use less often on top shelves. Place your go-to cooking utensils in a vase or other type of decorative container on the counter next to the stove. You should also consider keeping pots, pans, and other cooking items close to the stove to keep them within arms reach when you are cooking.
Extra Tips for the Go-Getters
. Organize plastic ware with their lids. Better yet invest in a set that comes with snap-together lids or a large matching set so you aren't left trying to cram the wrong lid on a bowl for leftovers. Make the most of the empty space over your cabinets by adding shelves for extra storage. Add a lazy susan in your fridge to avoid items being pushed to the back and becoming long forgotten. Set up a station to sort typical kitchen papers like coupons, menus, and notepads. While we use our kitchen almost every day the clutter can build up and become overwhelming. With an action plan in hand and a few days dedicated to organizing the chaos you can have a cleaner, more organized kitchen before you know it!